A delegation from the National Center for Good Governance (NCGG), India visits Civil Service Commission
August 19, 2019
---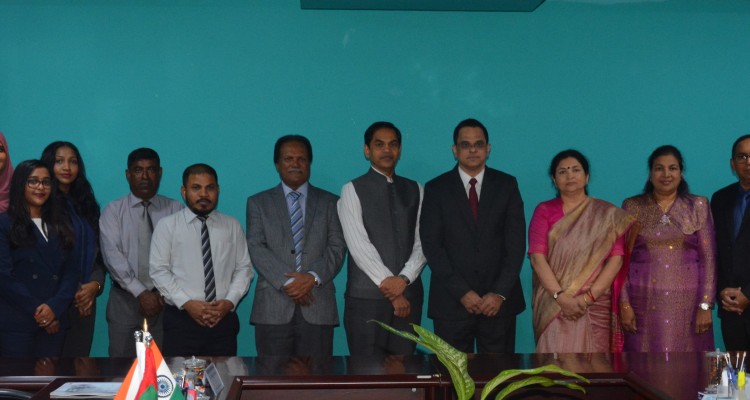 ---
A high level two-member delegation from National Center for Good Governance (NCGG), India visited the Civil Service Commission today. The delegation is on an official visit to the Maldives from 18th to 20th August 2019 to follow up on an MoU signed between CSC and NCGG during the state visit of Prime Minister of India His Excellency Narendra Modi on 8th June 2019.
The visiting delegation consists of head of delegation and Additional Secretary of Department of Administrative Reforms and Pubic Grievances (DARPG), Shri V. Srinivas and Additional Secretary of NCGG, Ms. Poonam Singh.
A welcoming ceremony in honor of the visiting delegation was held in CSC today. Ambassador of India, H.E Mr. Sunjay Sudhir joined the ceremony in welcoming the delegation to Maldives and CSC. The delegation and Ambassador was welcomed to the Commission by President of CSC, Dr. Aly Shameem and members of the commission.
In his speech, Dr. Aly Shameem expressed his gratitude to Indian government for having worked closely with the government of Maldives over the past years and highlighted the various milestones achieved with the kind assistance from India. Dr. Aly Shameem highlighted the significance of the India Aid Training and Capacity Building Program for the Maldives Civil Service and the close ties between CSC and the Embassy of India.
In his address, Ambassador H.E Mr. Sunjay Sudhir mentioned that CSC has been one of the first institution to collaborate with the Embassy since his appointment as Ambassador. He stated that the MoU between CSC ad NCGG is a significant step towards strengthening the bilateral relationship between India and Maldives. Ambassador highlighted on the various opportunities that civil servants of Maldives will be provided under the MoU on Training and Capacity Building Programme of Maldivian Civil Servants between CSC and NCGG.
Head of Delegation and Additional Secretary, Shri. V. Srinivas addressed the ceremony and highlighted on the various areas the training programs planned to be provided by NCGG. These areas include public administration, e-governance and service delivery, public policy and governance, information technology, best practices in fisheries in coastal areas, agro-based practices, self-help group initiatives, urban development and planning, ethics in administration and challenges in implementation of SDGs.
A booklet on the future training programs by NCGG was launched in the ceremony. This document will set forth the curriculum and way forward for conducting training programs for the upcoming training for civil servants. Under the current MoU 1000 civil servants will be awarded fully funded training. Apart from these trainings, several other collaborations will be continued under the MoU including exchange of experts, consultants, lecturers and academic materials.
Shri V. Srinivas and Ms. Poonam Singh also paid a courtesy call on the Vice President of Maldives, His Excellency Honourable Faisal Naseem at the President's Office today. Shri V. Srinivas will be addressing Permeant Secretaries on 'Transparency and Accountability in the Civil Service and Redressal of Public Grievances' in Civil Service Training Institute tomorrow.