Nippon Foundation donates books to CSTI
July 22, 2019
---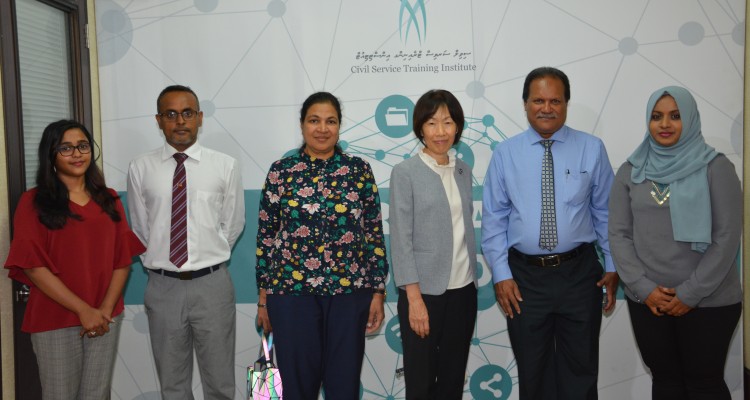 ---
Ambassador of Japan H.E Ms. Keiko Yanai handed over the books donated by the Nippon Foundation to Civil Service Training Institute during a ceremony held at the Training Institute today. The book donated were given under the "Read Japan" initiative by Nippon Foundation to promote a deeper understanding of contemporary Japan.
The president of Civil Service Commission, Dr. Aly Shameem conveyed his gratitude to Japanese government for its continued assistance to the Maldivian people, highlighting the various schools and the sea wall of capital Male' developed with the aid of the Japanese government. He also highlighted the bilateral relationship between CSC and Japan and expressed hopes to making an MoU with the National Personnel Authority of Japan to build long-term profitable and practical working connections in the territories of shared intrigue between the two organizations.
Ambassador Yanai thanked the Civil Service Training Institute for the warm reception, and said that she hoped that the donation would give the civil servants of Maldives a "big boost" in gaining better knowledge on Japan and its politics, economy, society, history and culture. She asserted her commitment to strengthening the friendly relations between the two nations and had reassured that she is determined to fulfil her mission by further strengthening strong relations between Maldives and Japan Civil Service Commission.
During the discussions held after the ceremony, Ambassador Yanai and Dr. Aly Shameem conversed on the different areas of shared interest that the Embassy could assist Civil Service Commission.
The ceremony was also joined by Secretary General of Civil Service Commission, Dr. Ibrahim Zuhuree, Director of CSTI, Ms. Fathimath Habeeba and Senior Administrative Executive, Ms. Aishath Hameeda.