Civil Service Employees complete a two-week training programme in India
April 23, 2019
---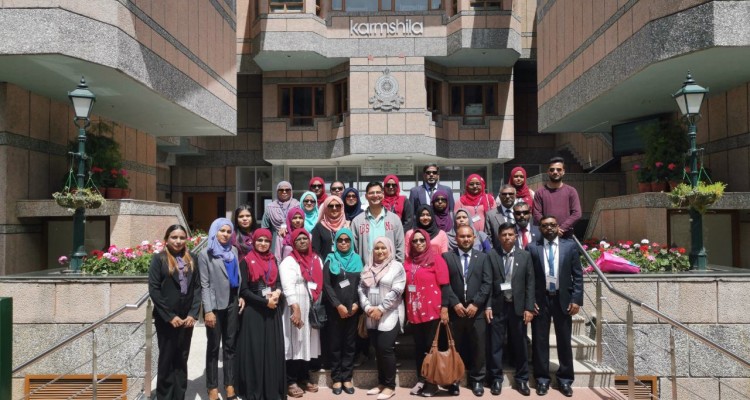 ---
The 27 civil servants who attended the two-week training program organised by National Centre for Good Governance (NCGG) in India arrives after its completion. The training program was held from April 7th to 21st of April in Uttarkhand and New Delhi.
The Maldivian delegation included 27 senior officials from Ministries, City Councils, Hospitals and other civil service organizations. In the first week of the training program, the participants attended a training held at the prestigious Lal Bahadur Shastri National Academy of Administration (LBSNAA) in Mussoorie. The LBSNAA is a training and research facility on public policy and public administration, of the highest calibre which trains the civil servants of India. During the week long training held there, the participants attended seminars ranging from public policy, good governance, e-governance, leadership and communication, etc.
Moreover, the participants had the chance to visit different organisations in Dehradun, Uttarkhand including Mussoorie Dehradun Development Authority. Vice Chairman of the Authority, Mr Ashish Srivastava conducted sessions on the mechanisms utilized by the Authority.
The second week of the training was held in New Delhi where sessions ranging from ethics, values, coastal farming and fisheries were taken. Participants had the opportunity to immerse in Indian culture during their visits to cultural sites including Agra Forte and one of the Seven Wonders of the World, Taj Mahal and also Qutub Minar.
Over all, participants had the chance to attend enlightening sessions on leadership and communications, human values in life and public-private partnership sittings. "This indeed has been a very fruitful and informative programme and has helped us gain many expert knowledge to enhance the capacity of our everyday work. We enjoyed every session arranged for us and we loved how they have handpicked, I believe the best person for every topic." said Ms. Aminath Rushma, Senior Training Coordinator and also the head of delegation for the program.